Enterprise HD IP Phone SIP-T23G
Yealink SIP-T23G features intuitive user interface and enhanced functionality which make it easy for people to interact and maximize productivity. Yealink  HD technology enables rich, clear, life-like voice communications, outsourced management options, flexible deployment and third-party communications applications. As a cost effective IP solution, it helps users to streamline business processes, delivering a powerful, security and consistent communication experience for small and large offices environment.
T23G Key Features and Benefits

Yealink's SIP Phones continue to evolve, the T4 Series have been designed by pursuing ease of use in even the tiniest details, these new features include: paper label free design, new foot stand allows two positions for the device, non-slip rubber feet, ergonomic recessed buttons etc.
HD Audio
Yealink Optima HD Voice refers to the combination of software and hardware design as well as the implementation of wideband technology to maximize the acoustic performance. Coupled with advanced acoustic clarity technology such as full duplex, echo cancellation, Adaptive jitter buffer etc. Creating an amazing face-to-face live experience.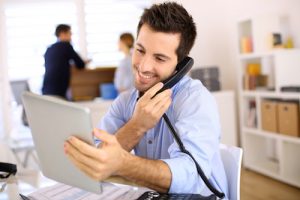 Enhanced Call Management
The SIP-T23G supports vast productivity-enhancing feature such as XML Browser, call park, call pickup, BLF, call forward, call transfer, 3-way conference. Which make it the natural and obvious efficiency tool for today's busy small and large offices environment. 
Efficient Installation and Provisioning
Integrated IEEE 802.3af Power-over-Ethernet allows easy deployment with centralized powering and backup.The SIP-T21P support the FTP, TFTP, HTTP, and HTTPS protocols for file provisioning and are configured by default to use Trivial File Transfer Protocol (TFTP), supports AES encrypted XML configuration file.
Highly Secure Transport and Interoperability
The Communicator uses SIP over Transport Layer Security (TLS/SSL) to provide service providers the latest technology for enhanced network security. The range is certified compatible with 3CX, Asterisk and Broadsoft Broadworks, ensuring excellent compatibility with leading soft switch suppliers.
Dual-port Gigabit Ethernet

PoE support

132×64-pixel graphical LCD

Up to 3 SIP accounts

Supports Dual-color LEDs

Headset support

Wall mountable

IPv6 support

Paperless design

Simple, flexible and secure provisioning options